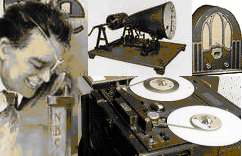 Aural History Productions
---
Talking History, based at the University at Albany, State University of New York, is a production, distribution, and instructional center for all forms of "aural" history. Our mission is to provide teachers, students, researchers and the general public with as broad and outstanding a collection of audio documentaries, speeches, debates, oral histories, conference sessions, commentaries, archival audio sources, and other aural history resources as is available anywhere. We hope to expand our understanding of history by exploring the audio dimensions of our past, and we hope to enlarge the tools and venues of historical research and publication by promoting production of radio documentaries and other forms of aural history. In addition to our weekly radio program, we are engaged in numerous educational efforts, from running and sponsoring workshops to offering full-semester courses on radio production and oral history. Some of the most talented radio producers and engineers currently working in public and non-commercial radio now contribute to Talking History—both to our programming and to our educational efforts through production workshops. Here, you'll also find digital archives of their enormously creative and captivating works. Our weekly broadcast/internet radio program, Talking History, focuses on all aspects of history. Follow the link to the left, "The Radio Show," for more information on the program and to access the live WWW broadcast. Below you will find our latest archived shows; use the drop-down menu to the left to access to our full radio archive.
~ ~ ~ ~

July 15, 2014
Segment 1 | "Backstory: America Incorporated ~ A History of Corporations" (2014).

In this episode of Backstory, the American History guys explore the history of U.S corporations from the early National period to the present: "From the proliferation of corporations in the post-Revolutionary era to the rise of the Gilded Age giants, we'll consider how corporations have been viewed in the courts and by the population-at-large. Guests include: Brian Murphy, Baruch College, City University of New York, on the "Manhattan Company" – a small-scale water corporation that had an outsize impact on party politics in the early Republic; Charles McCurdy, University of Virginia, on the aftermath of the 1819 'Dartmouth College' Supreme Court case and the rise of the anti-monopoly movement in Jacksonian America; Jack Beatty, journalist and author of Age of Betrayal (2007), on the legal footnote that helped establish 'corporate personhood' in the late 19th Century; Bart Elmore, University of Alabama, on the Coca-Cola company's secret formula for corporate organization and economic success. and Rakesh Khurana, Harvard Business School, on the 1970s transformation of the corporate manager into the superstar CEO."
Segment 2 | From the Archives: "Andrew Carnegie: The Gospel of Wealth" (1889; 1914).


Here us a rare recording of Andrew Carnegie, at age 78, reading selections from one of his most famous essays --- "The Gospel of Wealth," originally published in 1889. The recording took place iinside Thomas Edison's Bronx, N.Y. studio. For more information on this recording, go to: http://www.post-gazette.com/business/businessnews/2007/10/30/Only-known-recording-of-Andrew-Carnegie-gives-voice-to-history/stories/200710300181
~ ~ ~ ~

July 1, 2014
Segment 1 | "Independence Daze: A History of July 4th"

From Backstory: "In the early days of our nation, July Fourth wasn't an official holiday at all. In fact, it wasn't until 1938 that it became a paid day-off. So how did the Fourth become the holiest day on our secular calendar? This episode offers some answers. With perspective from guests and taking questions from listeners, Peter, Ed, and Brian explore the origins of July Fourth. They highlight the holiday's radical roots, look at how the Declaration's meaning has changed over time, and consider how the descendants of slaves embraced the Declaration's message of liberty and equality."
Segment 2 | From the Archives: "Mark Twain: An Independence Day Speech in London, 1907"


From the LibriVox readings of Mark Twain's speeches (go to #99), this is his talk to The American Society in London on July 4, 1907, at the Hotel Cecil. American Ambassador Choate called on Mr. Clemens to respond to the toast "The Day We Celebrate." For the full text, see: http://www.gutenberg.org/files/3188/3188-h/3188-h.htm#link2H_4_0100.
~ ~ ~ ~

June 24, 2014'
Segment 1 | "Hindsight: 'Eichmann on Trial' and 'The Man in the Glass Box'" (2014).


From ABC/RN's Hindsight: "Part 1 ~ Adolf Eichmann was responsible for sending millions of people to the Nazi death camps during World War Two. After the end of the war he escaped to Argentina, but in 1960 he was snatched by the Mossad, Israel's intelligence service, and brought to Jerusalem to stand trial. In this programme the award-winning British journalist Gavin Esler travels to Israel to meet those involved in Eichmann's dramatic and controversial capture and trial. The kidnapping violated Argentina's sovereignty and was condemned by the UN. Questions were raised about whether it was appropriate to try Eichmann in Israel, and international Jewish leaders feared an anti-Semitic backlash. David Ben-Gurion, Israel's Prime Minister, insisted that the Jewish state was the only heir of the six million murdered and that the trial would fulfil a historic duty. Ultimately, it forced the young country to confront its history in a way that had profound consequences. Gavin meets Rafi Eitan, who led the Mossad team and who recalls his acute sense of being involved in something momentous. Gabriel Bach, the deputy prosecutor, explains that Eichmann's defence; that 'he was only following orders' was laughable. In fact he disobeyed orders to carry out his extermination ambitions. Michael Goldman Gilad, who survived Auschwitz, became a policeman and witnessed Eichmann's execution. He remembers being forced to spread ash from the Birkenau crematorium onto the icy ground so SS officers wouldn't slip. Only when he saw the tiny pile of ash after Eichmann's cremation did he realise how many bodies must have made up the ash mound in the camp. This program is a Whistledown production." PART 2 ~ Jeffrey Shandler, author of While America Watches, analyzes the impact of the televising of the Eichmann Trial.
Segment 2 | From the Archives: Hermann Goering at Nuremberg, March 18, 1946.
We present here some excerpts from the cross examination of Hermann Goering on March 18, 1946 by chief American Prosecutor Robert H. Jackson at the Nuremberg trials. For the film/video version of these excerpts, see: https://www.youtube.com/watch?v=mfwujaV7Ia8.For further information on Goering, see: http://www.ushmm.org/wlc/en/article.php?ModuleId=10007112. For more on the Nuremberg trials, see: http://www.loc.gov/rr/frd/Military_Law/Nuremberg_trials.html.
~ ~ ~ ~

June 17, 2014
Segment 1 | "Against the Grain: Backstory: Greg Grandin on Freedom and Slavery" (2014).


From Against the Grain, we bring you this discussion with historian Greg Grandin: "In 1805, a remarkable slave rebellion took place -- not in the Atlantic, but in the Pacific, and involving an unusual ruse. And it illustrates, argues historian Greg Grandin, something fundamental about freedom and unfreedom in the New World. Grandin examines the historical event, immortalized by Herman Melville, in which insurgent slave leaders maintained a striking deception against the odds, but were ultimately repressed by an anti-slavery republican. Greg Grandin is the author of The Empire of Necessity: Slavery, Freedom, and Deception in the New World (Metropolitan Books, 2014).
Segment 2 | From the Archives: "LibriVox reading of William Lloyd Garrison from The Liberator, December 28, 1859." (Original document: 1859; reading: 2007).
From LibriVox, here is a selection from a reading of a William Lloyd Garrison sympathetic editorial on John Brown's attack on Harper's Ferry. It appeared in Garrison's paper, The Liberator on October 28, 1859. For the text, see: http://fair-use.org/the-liberator/1859/10/28/the-tragedy-at-harpers-ferry.
~ ~ ~ ~
---
Copyright © 1997-2014 Talking History